The right part, the right price, when you need it.
Hynes & Waller, Inc, is the area's largest supplier of equipment and parts for the Commercial Laundry Industry. We stock parts for all of the top brands: Speed Queen, UniMac, Chicago Dryer, Milnor, Continental, Wascomat, Electrolux, Dexter, Ipso, Cissell, American Dryer, Sharper Finish and many more.

At Hynes and Waller, we take a different approach than the competition. It starts with the extensive knowledge and expertise of Parts Manager Ed Tranby and Senior Parts Specialist Chris Meerman, III. We take the time to determine which part is actually causing your symptoms and suggest a solution with the correct OEM part to fix your problem the first time- ultimately saving you time and money!
We also stock coin changers and parts from Standard Changemakers, American Changer, and Rowe. You can also find various commercial laundry accessories from laundry carts, heavy duty laundry scales and soap dispensers from Vend-rite.
Front Load Washer
Extractor Parts
Top Load Parts
Tumbler Parts
Dryer Parts
Front Load Washer Parts
Changers
Carts
Scales
Coin Slides & Boxes
Water Heaters
Soap Dispensers
Manufacturers
Online Specials
Service Tools
Laundry Furniture
Parts Diagrams
Laundry Equipment
Money Boxes
Card Machines
Diagrams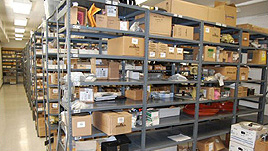 We at Hynes & Waller are committed to stocking the largest selection of parts for immediate shipment. Our goal is to make it easy for you to find and order the laundry equipment parts and accessories you need to get the job done. Our goal is to ship your parts to you quickly to keep your business running.